Message from President to Valued Customers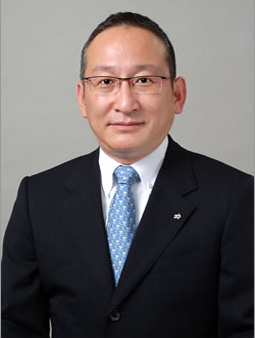 Zojirushi Corporation Ltd was established to start our business 100 years ago. The history of the Zojirushi mark goes back to a glass-lined vacuum bottle as our first product. This bottle for home use was created using vacuum insulation - a breakthrough technology at the time.

Our experienced management team and specialists are determine to improve and promote our household product's quality control to meet our customers' satisfaction.
Although much has changed and lifestyles have become more varied, our corporate philosophy of "Creating a quality of life, by way of new product innovations" continues to be reflected in our many products and services worldwide.

Product development utilizing the philosophy of hi-end technology makes Zojirushi be one of the leading indoor and outdoor household products manufacturers for 100 years.

Convenient and compact Rice Cookers, Deluxe design for living room usage Electric Pots, Various kinds of Stainless Steel Vacuum Bottles are examples of our products to cater for all kind of customer demands.

Mr. Norio Ichikawa
President
Zojirushi Corporation Ltd.
Corporate History
1918
Ichikawa Brothers Trading Company was established in Osaka, Japan.
1961
Name changed to Zojirushi Corporation; elephant adopted as trademark.
1964
Japan's first automated bottle production equipment was developed, mass production of vacuum bottle interior glass begins.
1983
Micom electric rice cooker/warmer was introduced.
1985
Tokyo Main Office was established.
1986
Union Zojirushi Co., Ltd was established in Bangkok, Thailand.
2008
Zojirushi celebrated 90th anniversary; Vacuum Bottles & Air Pots Pavilion was established in Osaka, Japan.
2014
Zojirushi SE Asia Corporation Ltd was established in Bangkok, Thailand.
2016
Zojirushi Corporation Ltd.'s Net Sales : JPY 89,000,000,000 (Approx. USD 790,000,000)
Operating Income : JPY 12,000,000,000 (Approx. USD 106,000,000)
2018
Zojirushi marks the 100th anniversary of its establishment ;
was listed on the First Section of the Tokyo Stock Exchange.
Now Zojirushi affiliate consists of Zojirushi Corporation (as Headquarters) and 11 companies (3 factories, 4 international sales offices) and 1,300 employees.
About Zojirushi SE Asia Corporation Ltd.
South East Asia countries are one of our potential and promised high-growing markets.
In order to expand sales bases, Zojirushi SE Asia Corporation Ltd. (ZOSEA) was established in Thailand in October 2014 by Zojirushi Corporation Ltd. (Zojirushi Headquarters) as the country location is in the center of the region.

Now ZOSEA business activities are under corporate with Zojirushi Headquarters' sales and marketing strategies as well as Japanese specialists and technicians to cover all South East Asian markets inclusive of Thailand.
| | |
| --- | --- |
| Company Name | Zojirushi SE Asia Corporation Ltd. |
| Address | 4th Floor, Saha-Union Building, 1828 Sukhumvit Road, Phrakhanong-Tai, Phrakhanong, Bangkok 10260 Thailand |
| Telephone | +66(2) 741-4818 |
| Fax | +66 (2) 741-4819 |
| E-mail | info@zojirushi.co.th |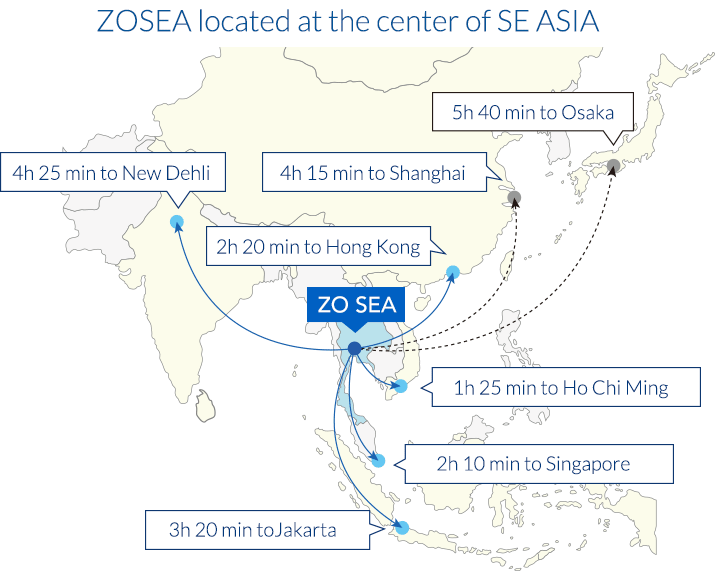 100th Years Anniversary Activities in Thailand
January - December 2018
Zojirushi Corporation, located in Japan as Headquarters, which is operating its business under "Zojirushi" brand, had the company 100th years anniversary in May 2018.
The company has been offering its vacuum insulation technology based products such as vacuum bottles, rice cookers and electric pots, to customers from May 1918 under the concept of "Zojirushi, Now and Forever".
For Thailand market, we are intending to introduce life convenience to our customers through Stainless Steel Vacuum Bottles, which is manufactured in Thailand, as the main products.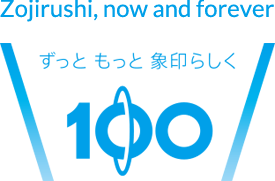 In this 100th years anniversary occasion, Zojirushi Corporation announced the celebrating logo to reveal its gratitude and thankfulness to the customers who are Zojirushi products' supporters, as well as to raise its brand awareness in Thailand market which is the company's new challenge.
Global Branding Movie "Share the Warmth"
In order to get more brand awareness from customers, the company also would like to express its product's philosophy and value through a fantasy movie.
It is "stop-motion" animation fantasy movie produced by Japanese well-known producer Mr.Tomoyasu Murata.
His script narrates the story through virtual scenarios, including the characters that can change their emotion sensitively depending on the scenes.
Mr. Tomoyasu Murata spent his 4 months for this movie production.

Stainless Steel Vacuum Bottle Mock Up in BTS Stations
November 2017 - April 2018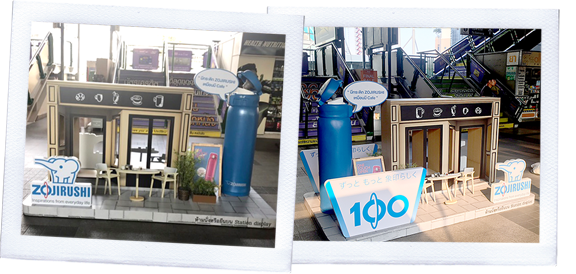 There were stainless steel vacuum bottle mock-up of SM-SD series, one of Zojirushi mainline products, in BTS Asoke and Saladang stations. The artworks, which were displayed from November 2017 and additionally the 100th anniversary logo from January 2018, were created to show the brand's history and to create brand's friendliness to daily BTS passengers.